Case study - Co-design - mixing research technics
What is Co-Design?
Co-Design is the activity when we involve customers into the design process. We create a real life situation which is relevant to the customer during using our product and ask them to imagine an ideal user interface for that specific situation. He has a "magic wand" and can create anything - what is ideal to him.

The main goal of the Co-Design is not using ideas come from customer in our design: the main goal is to UNDERSTAND how our users are thinking.
Our Co-Design method
So we start asking him about the interface : how it should look like. He just start giving us ideas, how and where he should imagine UI elements / features / information and the designer start drawing it to a paper. Then we develop it together.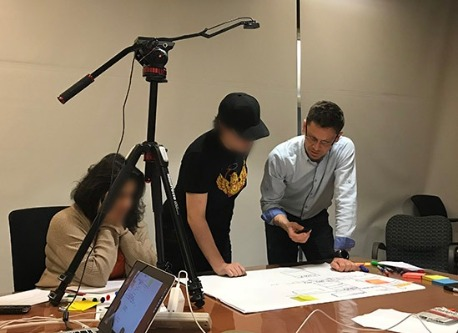 It's not a fine tuned UI - It's a very very high level. but this technic is extremely useful to understand what information / action / etc. a customer needs in a specific situation in a specific moment in the UI.

The ideal situation is when we are in the same physical place with the customer and we can use paper for drawing: this is the fastest way of sketching ideas.
Besides this "live" scenario I did a truly remote scenario as well: the designer (Me) was in Hungary the customer was in India and our researcher was in US. We used a screen sharing remote tool + I've used first sketch later Mural for sketching.
An example of full research / design method
Last time we did the following process together with the researcher:
Early product research
Early high level design

Outcome: Possible flows, High level mockups, questions for interview / co-design, Validation ideas

Remote studies part 1
Pause studies, do some Design iteration (Designer's suggestion)

we had so much info from the studies - lets do some progress with the design
we might have another questions if we go a bit deeper

On-site studies
Remote studies part 2

Evaluation of the studies: creating job stories / jobs to be done
Design
Validation